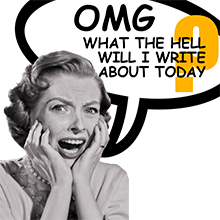 OMG, OMG, OMG YOU KNOW THAT MOMENT... that lasts for friggin' hours. You're staring at the damn computer screen in the hopes that the content fairy is going to spray pixie dust all over your Facebook Wall and VOILA! Captivating Compelling Content will magically appear… and so will your buyers!

THEY SAID, "Just download the company campaigns then set-it and forget-it!"
THEY SAID, "Just do as I do and you'll get what I got!"
THEY SAID, "It's easy-peasy!"
WHAT THEY DIDN'T SAY was the other 99,999 in the company would have the same bloody posts on their Facebook Wall!

NOW, YOU'RE LOST IN A SEA OF SAMENESS you're feeling invisible and all you've got is lots of friggin' crickets! Dammit why is this so hard and frustrating?