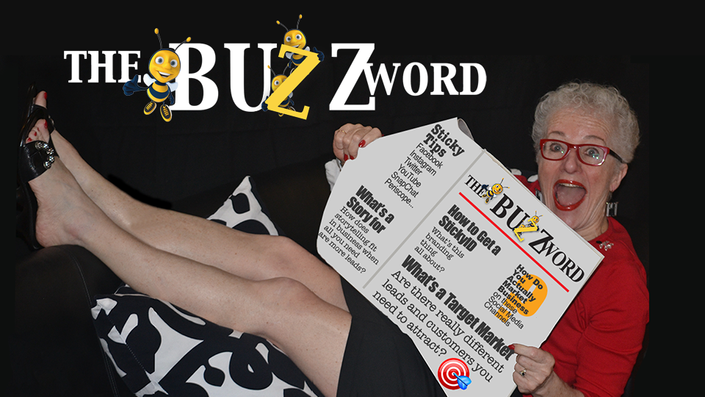 The BuzzWord Monthly Membership
Get' em STICKY, Get 'em STUCK & Get 'em to STAY like Bees with a myriad of Tips, Tricks and Strategy Trainings to Build and Market a Successful Online Business
Enroll in Course

The BUZZword is a monthly membership program created to inspire, inform, and challenge you to THINK DIFFERENTLY ABOUT YOUR MARKETING... JOIN THE BUZZword and UNCOVER HOW TO Get 'em STICKY, Get 'em STUCK and Get 'em to STAY like bees to Honey with a myriad of Tips, Tricks and Strategy Trainings to help you Build and Market a Successful Online Business!
Most courses promise a transformation; a holy crap you're here in the shitter kinda proposition with the promise that this is gonna miraculously move you to money; movie star status and much much more.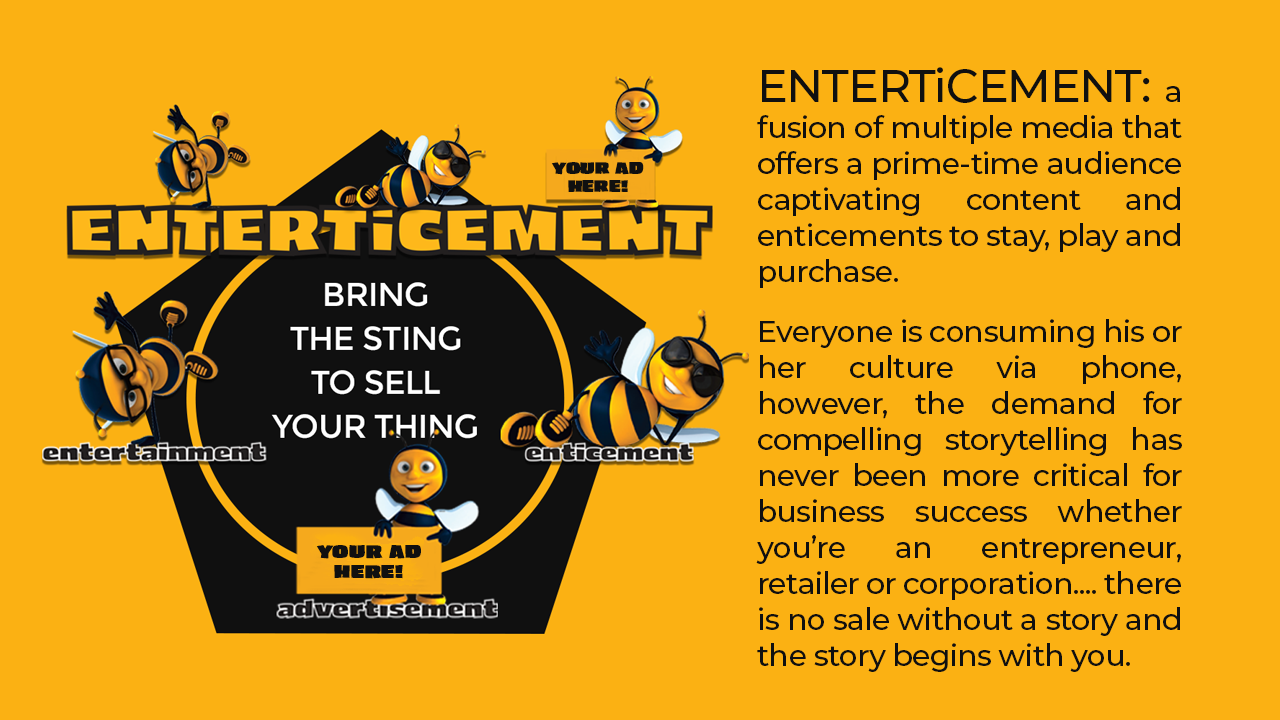 THE BUZZword is more like a cauldron of magic potions constructed around my three pronged signature system called ENTERTiCEMENT that you can mix and match to craft compelling content to build your business buzz.

StickySocial for example is no longer about throwing some SH!T on your wall about Buy My Stuff, Buy My Stuff in the hopes that some of it might stick... and by some stroke of luck your potential customer will open their wallet for your offer. Today Sales are far less Funnel and far more about the Customer Connection, The Journey and The Experience... I'd love to show you how to harness the ENTERTiCEMENT elements of entertainment, enticement and advertisement to boost your business buzz.
No matter the business, products or services, entrepreneurs forget that online success is really all about how you position you... position your authority, position your expertise and position YOU as the best choice to help serve and solve their customer's problems.
Before THEY BUY FROM YOU... they must FIRST BUY YOU. Let's BRAND YOU so that your Audience will never ask, "Why Choose You"?
The BUZZword is not about the tech stack, the edification of some guru; or the gang you hang with. It's all about you and the stories you tell, the content you create and the connections you make with your Audience... Let me show you how...
WHY me and STICKYbee?

VisualStorytelling is my wheelhouse bolstered by my innate ability to Connect the Dots with unlikely topics, elements, and themes to cast some of the stickiest strategies and unique solutions for what most would perceive as run of the mill situations. And while my Attention Deficit can carry me away at times, an "ADDer's Asset" is in their ability to think outside the box because they refuse to sit long enough to be put in one!
So in addition to new leading-edge monthly trainings, I'm taking the best of my many Webinars and about 300 FacebookLIVES to build an Evergreen Resource for you to dive into and start building YOURBusiness and YOURBrand with a new perspective.
The BUZZword launched with an 18 course bundle here's just a few of the things you can jump into:
UNCOVER Your Video Style in The BingeFling: LIVE on Mobile; LIVE on Desktop with a Screen Share, or Craft a Video without even showing your face
UNDERSTAND the Dynamics of Content Curation
UNLEASH THE POWER OF INFLUENCE STRATEGICALLY through Storytelling The Dread to Dream Journey and transport your Audience by enticing them to engage in the Transformation of your offering...
Your Instructor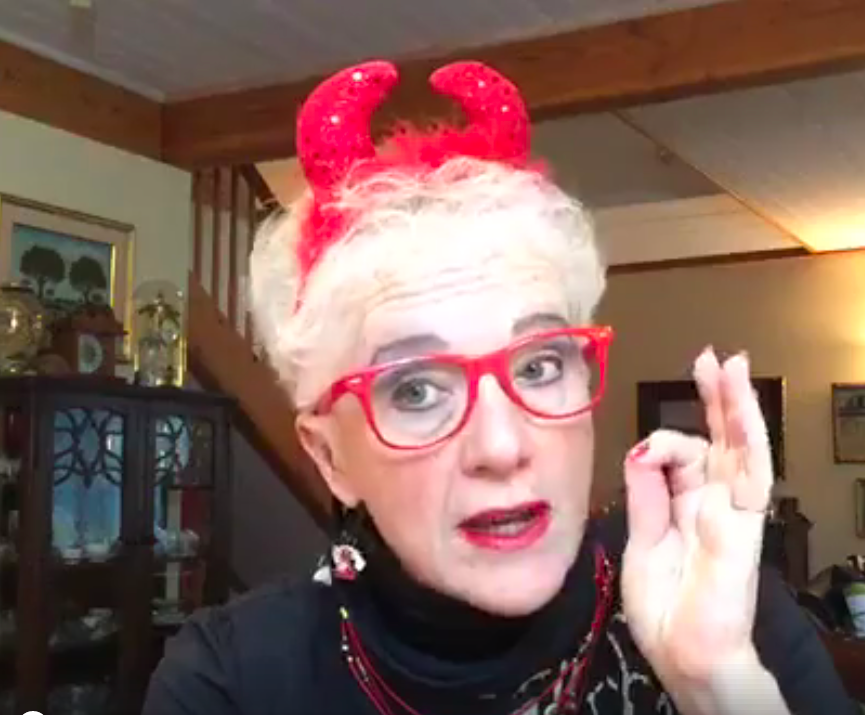 DARCIE BUZZELLE
I dream in colour and connecting dots is all about the pictures and the stories that tell the tale.

I've been causing a DISRUPTION since forever and I'd love to show you how to TRANSFORM YOUR CONTENT with VISUAL StoryTelling!

In 1996, StickyBee created Canada's first online shopping center—before Google, PayPal and way before FaceBook. Wait long enough for the times catch-up with your crazy ideas and those outlandish schemes become mainstream and suddenly one becomes an overnight genius marketer…

I'll help you build YOUR BUSINESS BUZZ… Get 'em to STICK, get 'em STUCK and Get 'em to STAY like Bees to Honey!

Your Audience is Impatient and Primed for Instant Gratification. Don't leave your message to fate… or take too long to tell it!

JoinMe and Let's SHARE some SH!Tz and Giggles… and a New Perspective on Marketing YOU and Your Business.
Course Curriculum
First Section
Available in days
days after you enroll
Course Options (click for details)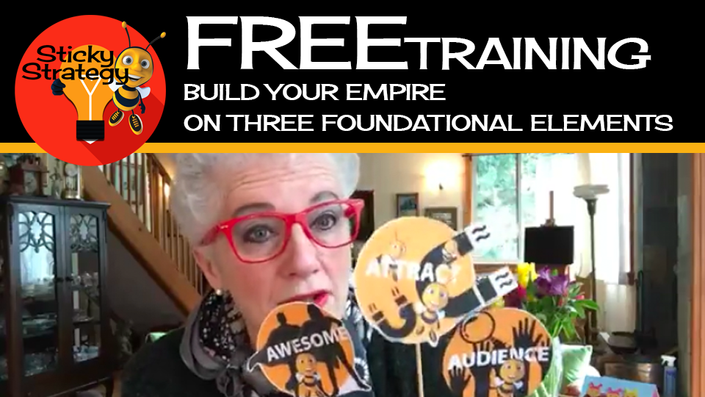 FREE: Your Perfect BizBUZZ TRIFECTA
Come Get the Foundation to Build Your Empire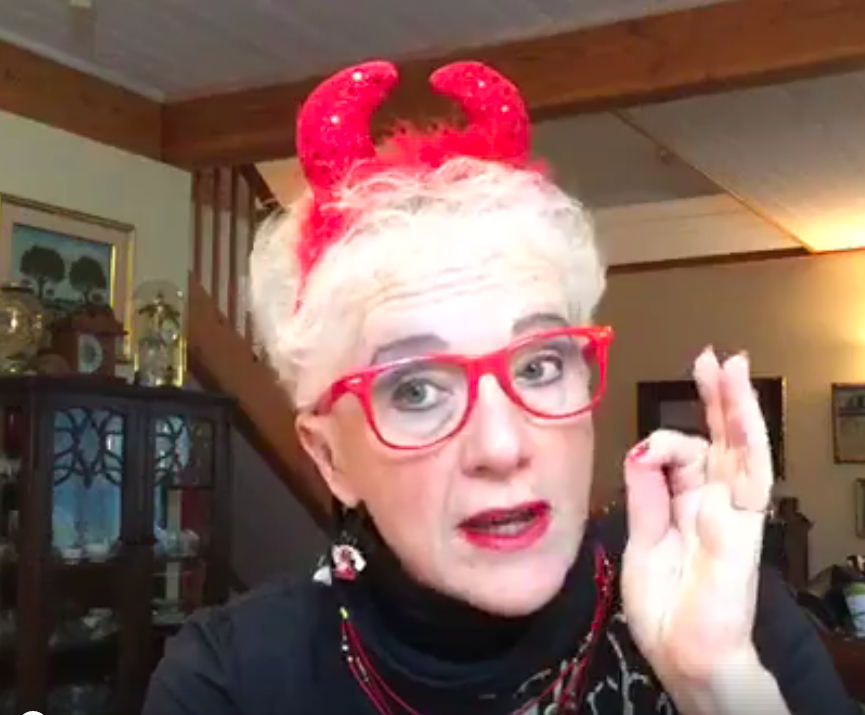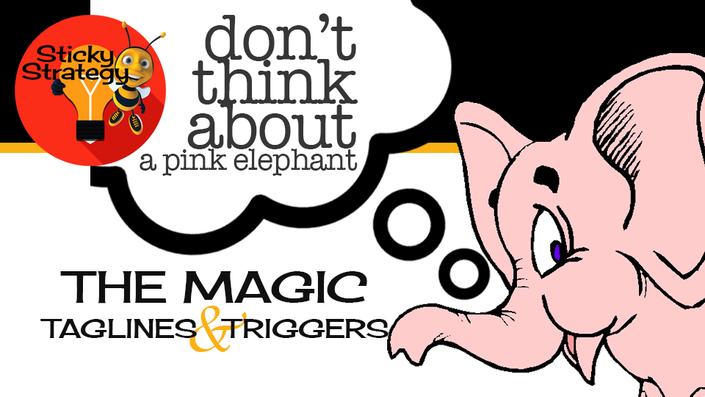 Titles, Taglines and Triggers
Your tagline is really your most valuable trigger in your communication arsenal. WELL POSITIONED, your prospect will invite themselves into your conversation...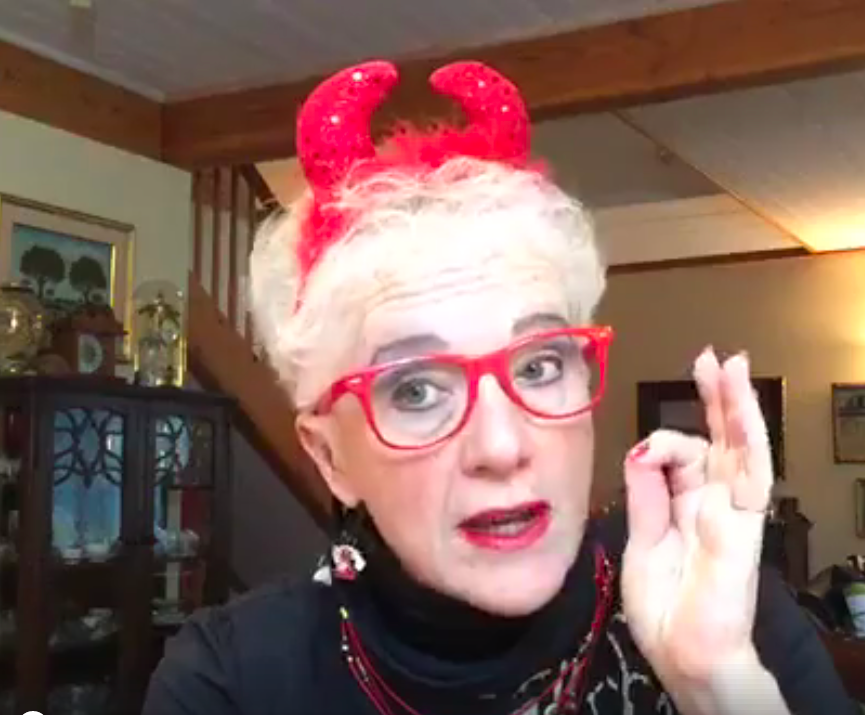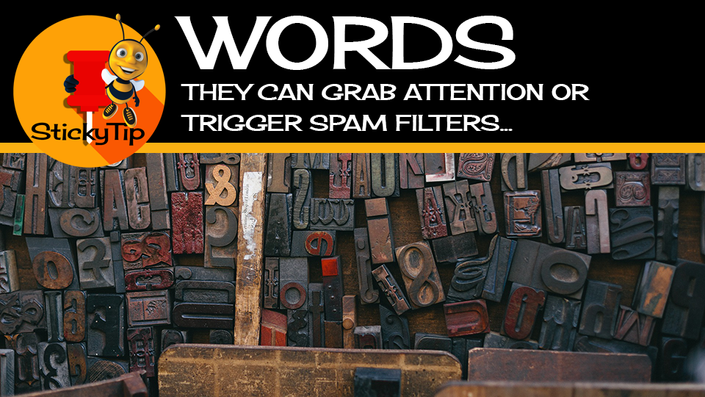 BW: WORDS can INFLUENCE a Buyer or Choke a Spam Filter
The Good, The Bad and The Ugly of the RIGHT WORDS for the Persausion at Hand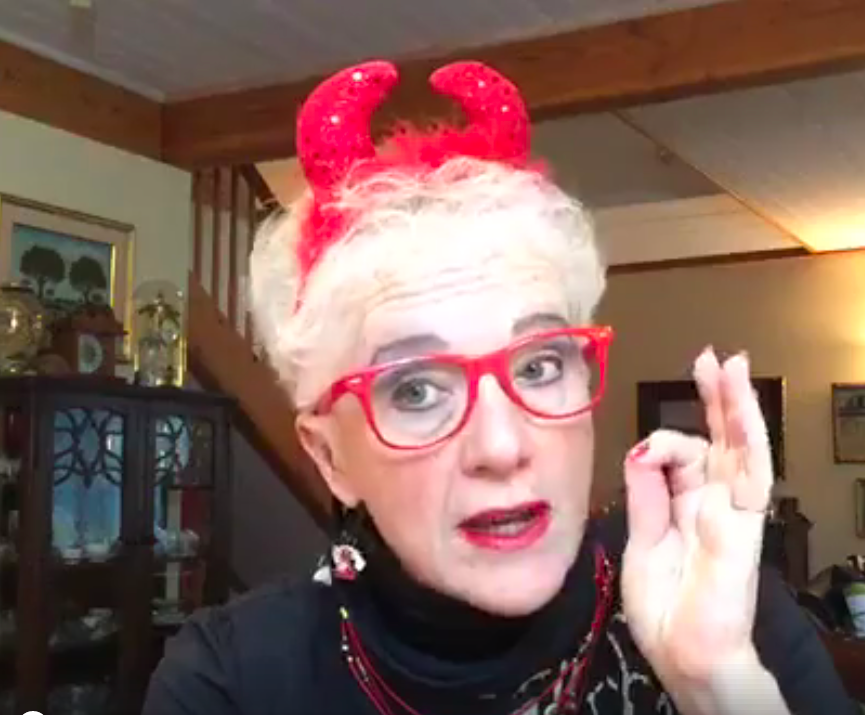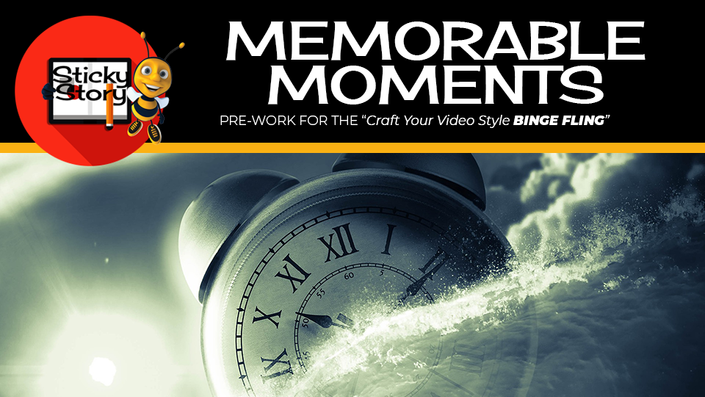 BW: Making Moments Memorable
You Can "AUTHOR a MEMORABLE MOMENT" and Captivate Your Audience in the Blink of an Eye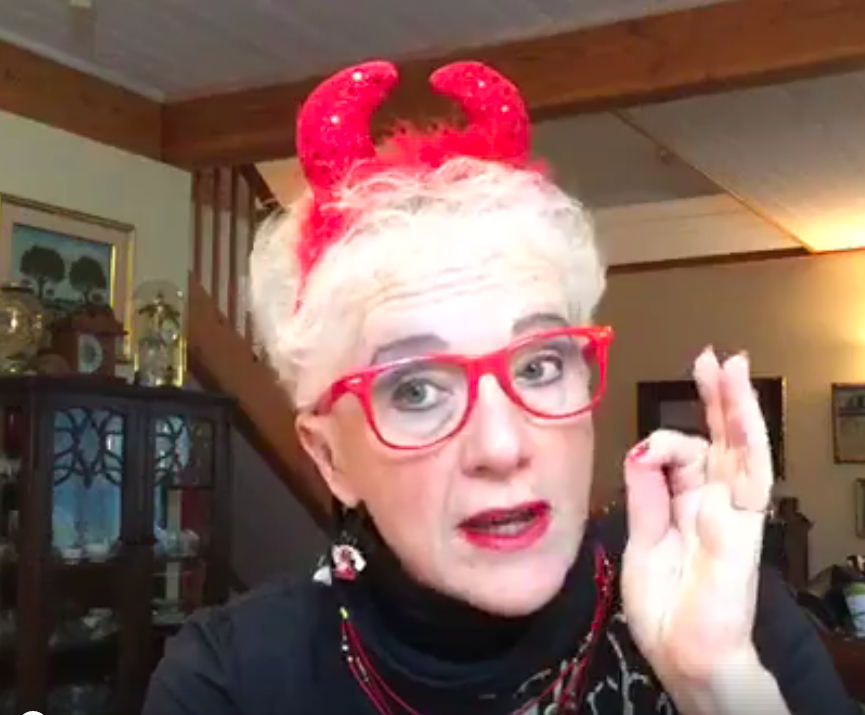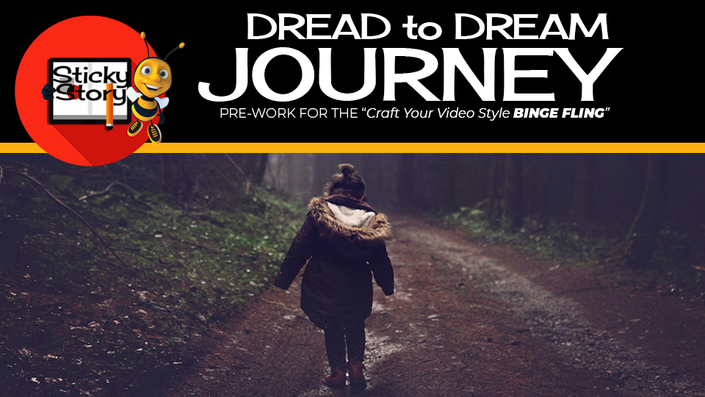 BW: What's Your Customer's Dread to Dream Journey
This is Your OFFER's TRANSFORMATION STORY... Tell it Right and it will Dictate Your SUCCESS!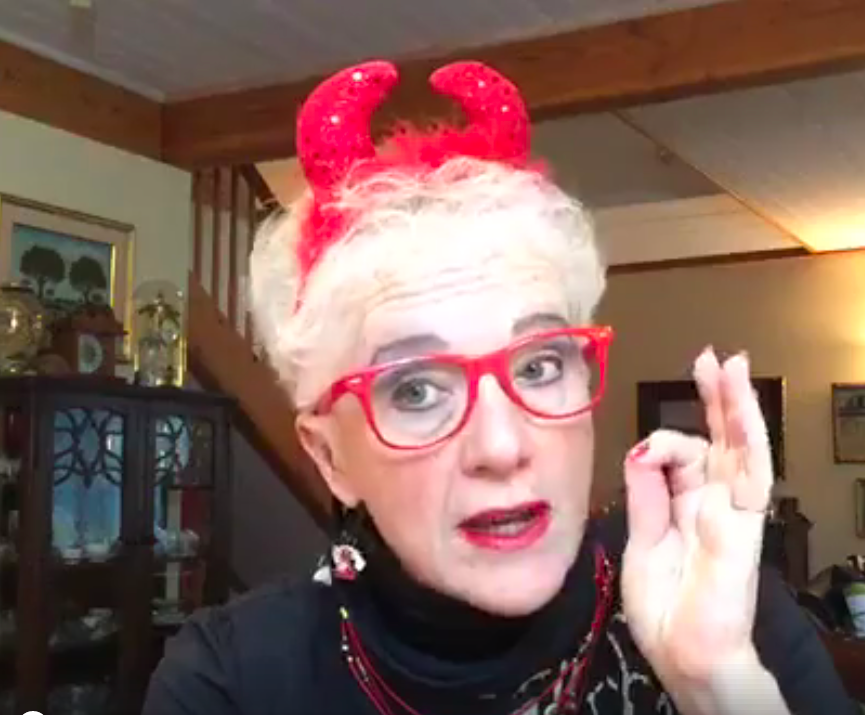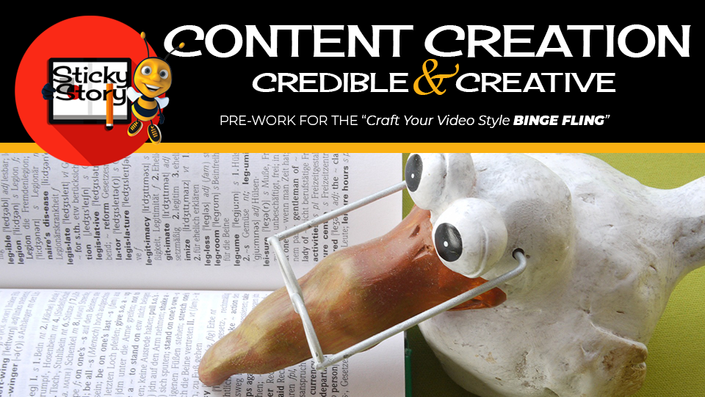 Crafting Creative and Credible Content Curation
Plant Your Content Storytelling in Credible Facts... It Builds Authority!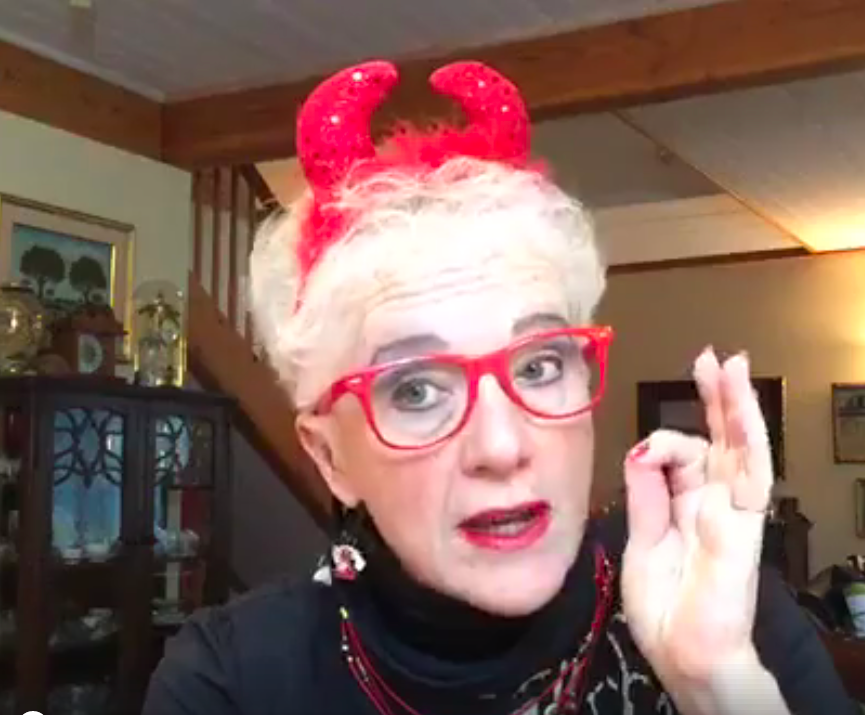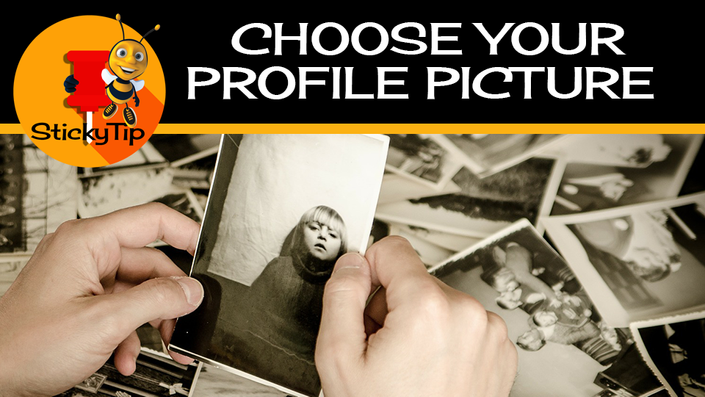 BW: Pick Your Perfect Profile Picture
Let the Widom of the Crowd Hit Ya With Your Best Shot!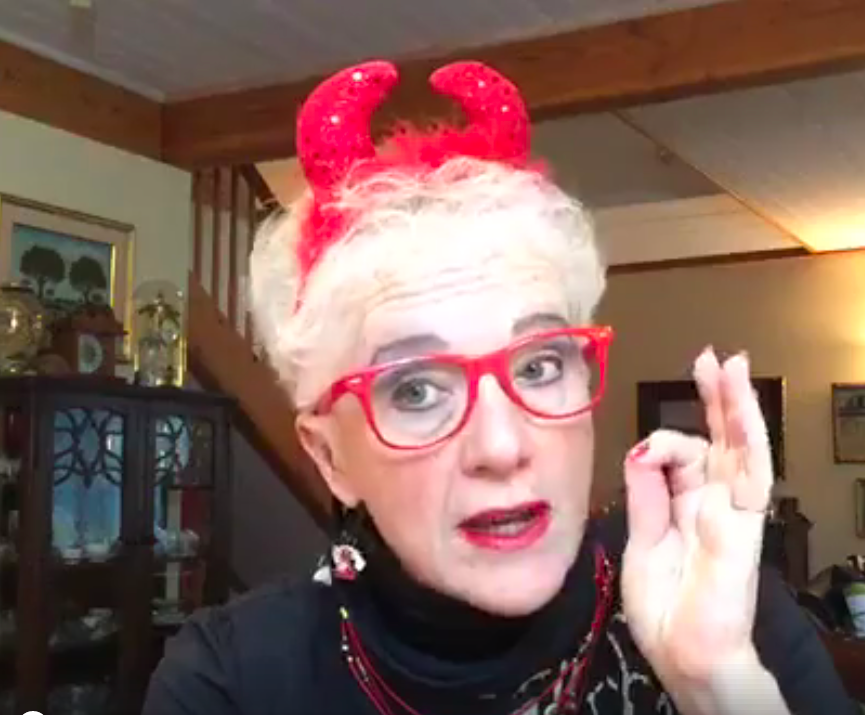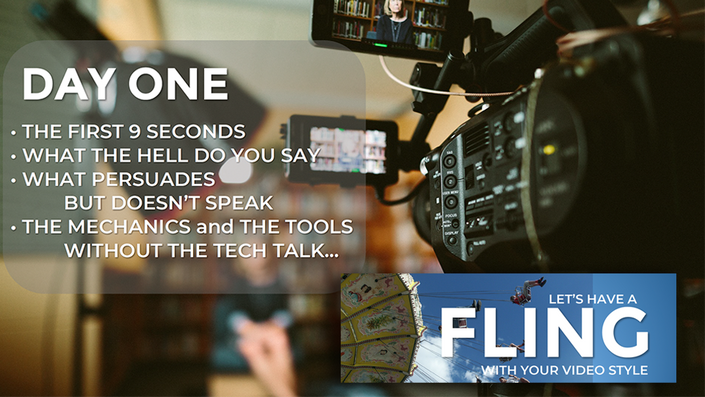 BingeFlingDay1: FB LIVE on MOBILE
What Persuades but Doesn't Speak?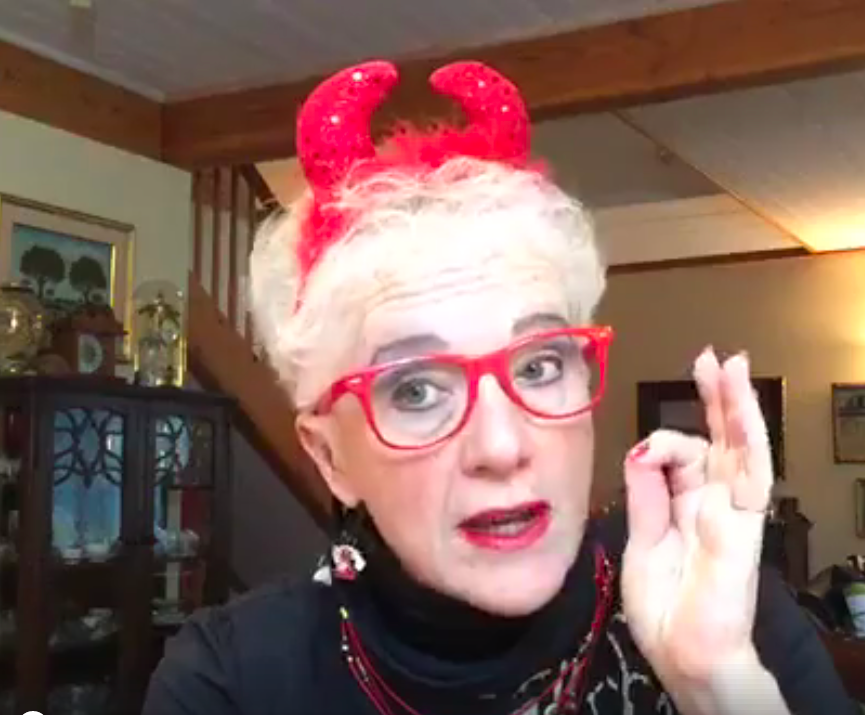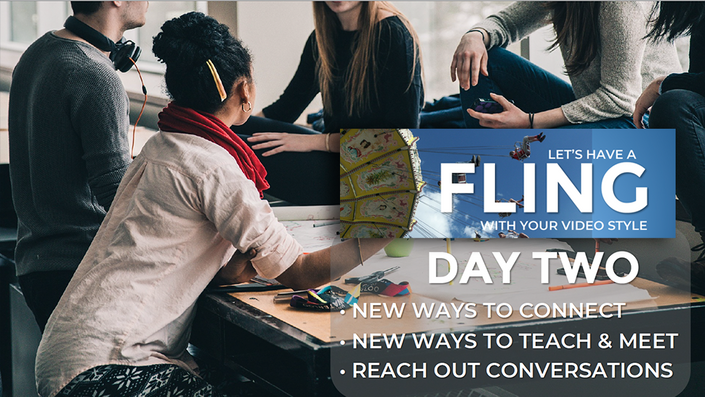 BingeFlingDay2: FB LIVE ON YOUR DESKTOP
FB LIVE from Desktop with Screen Share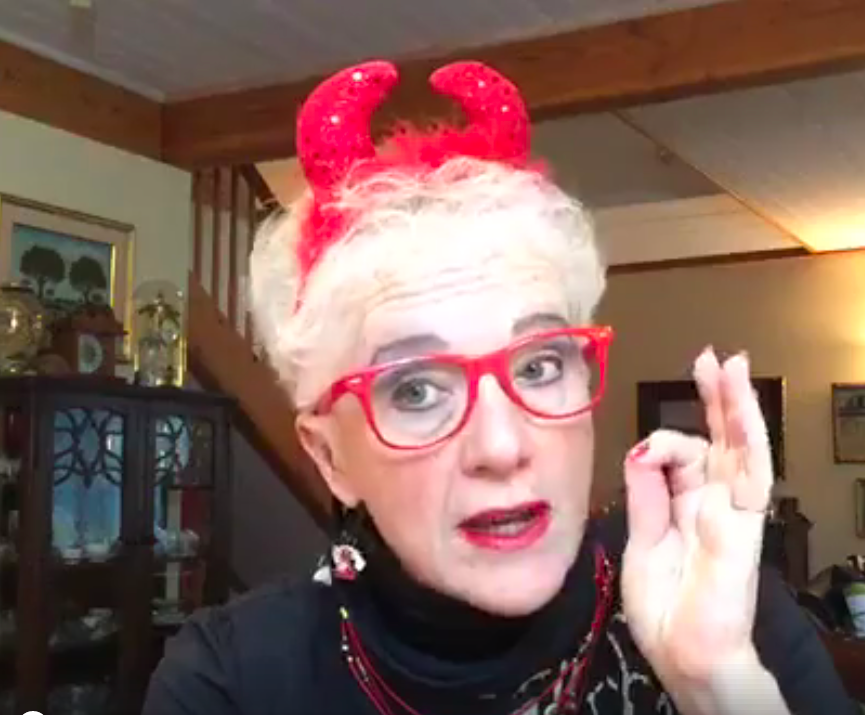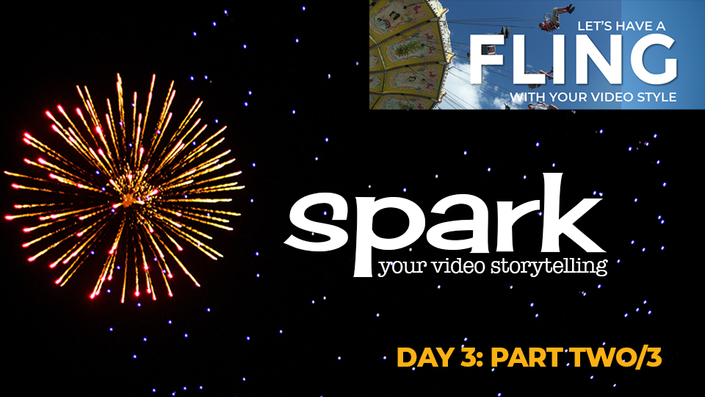 BingeFlingDay3: SPARK a VIDEO
SPARK Your Story with a VIDEO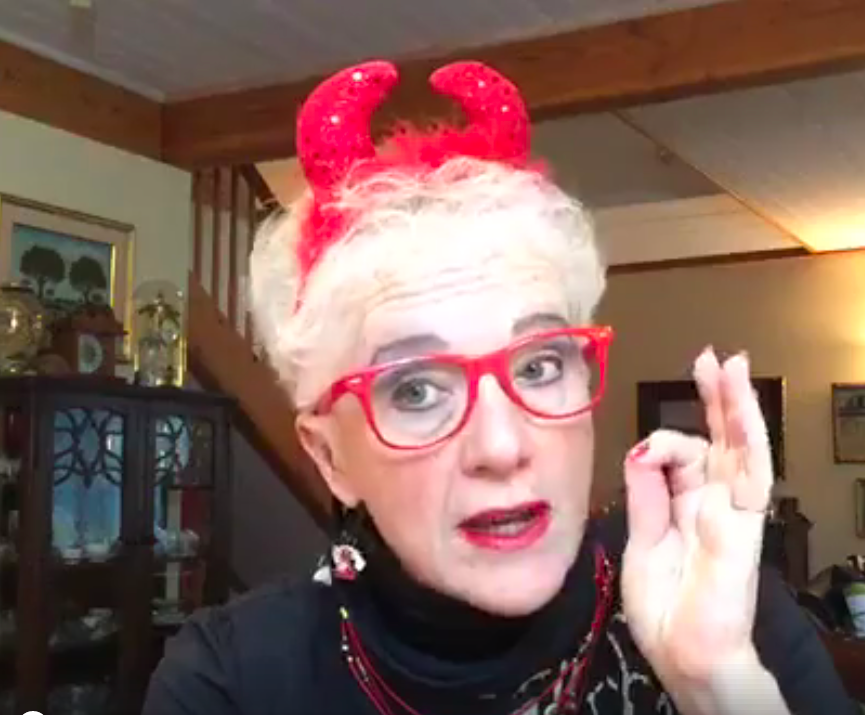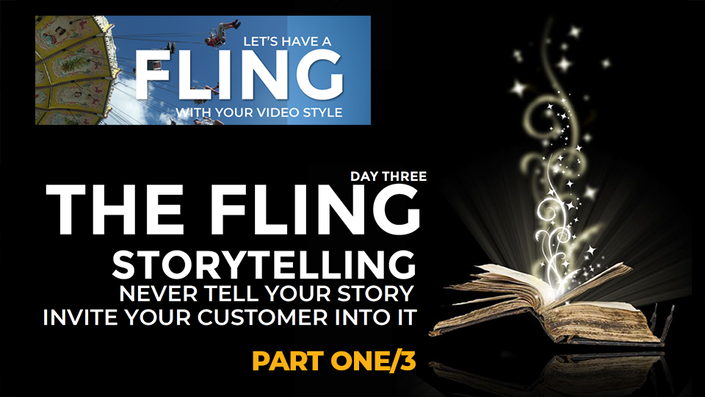 BW: BingeFlingDay3: STORYTELLING
Storytelling Strategy Invite Your Audience into The Story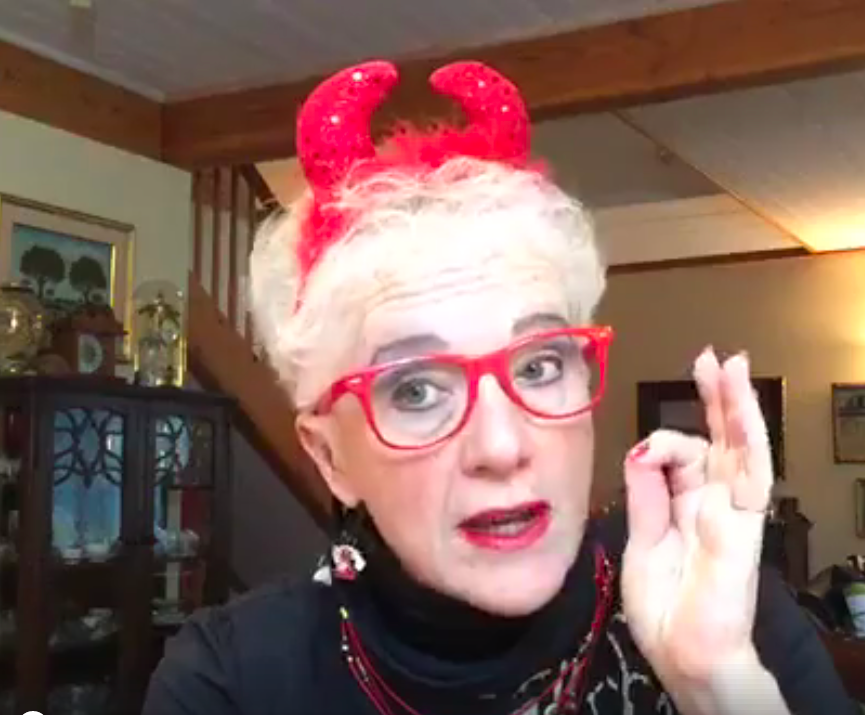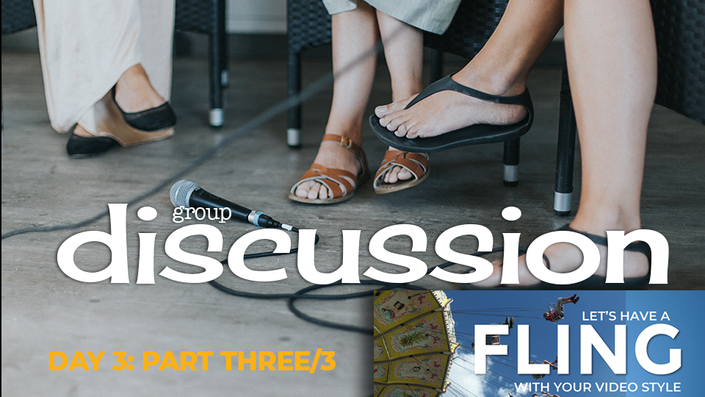 Binge Fling_Day3 Group Discussion and BrainStorming
A BrainStorming Session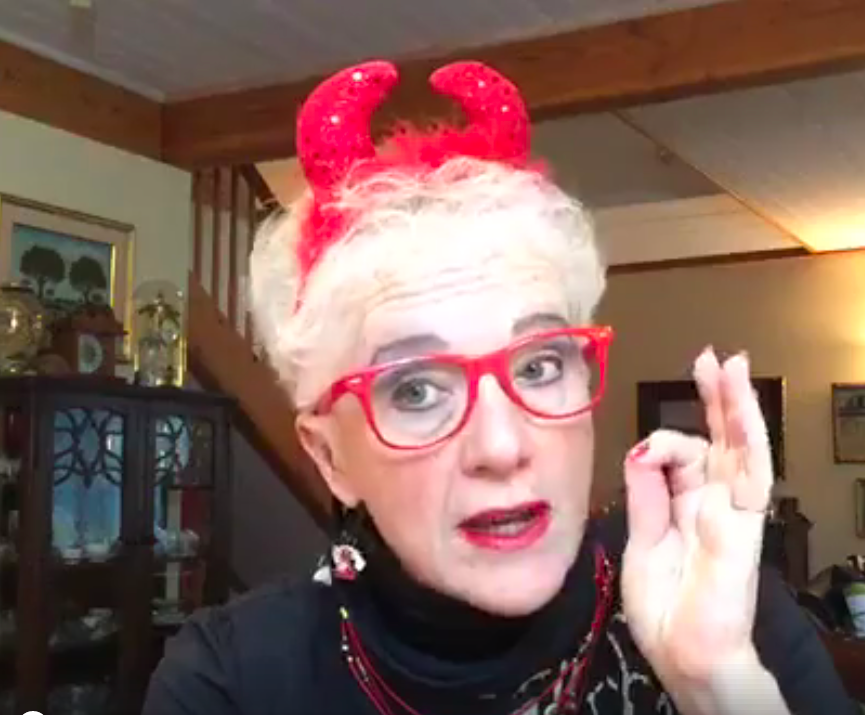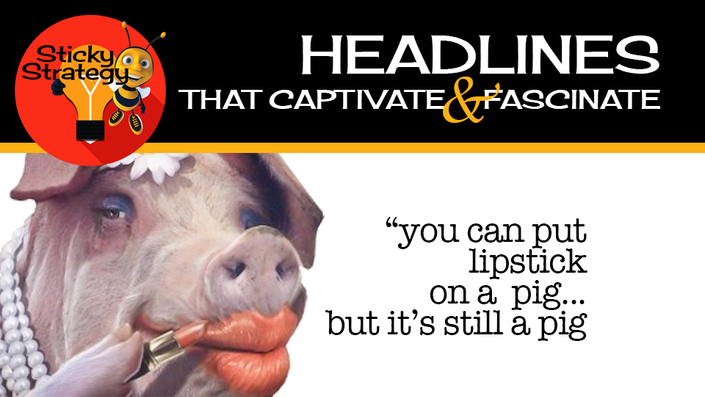 You Can Put LipStick on a Pig...
BUT... It's Still a Pig! Come, Grab 'em with CAPTIVATING Headlines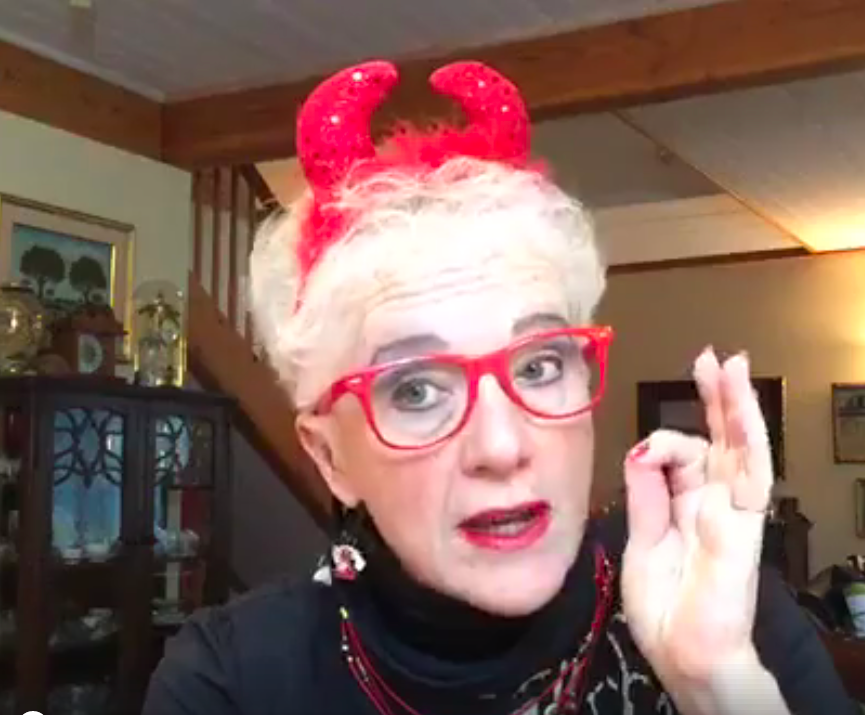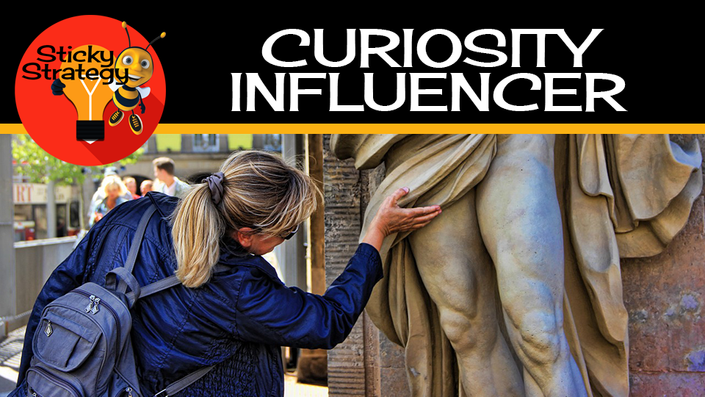 CAPTIVATE with CURIOSITY
TAP and TEASE Your Audience's Personality Psyche so that they Stay in Your Content Loop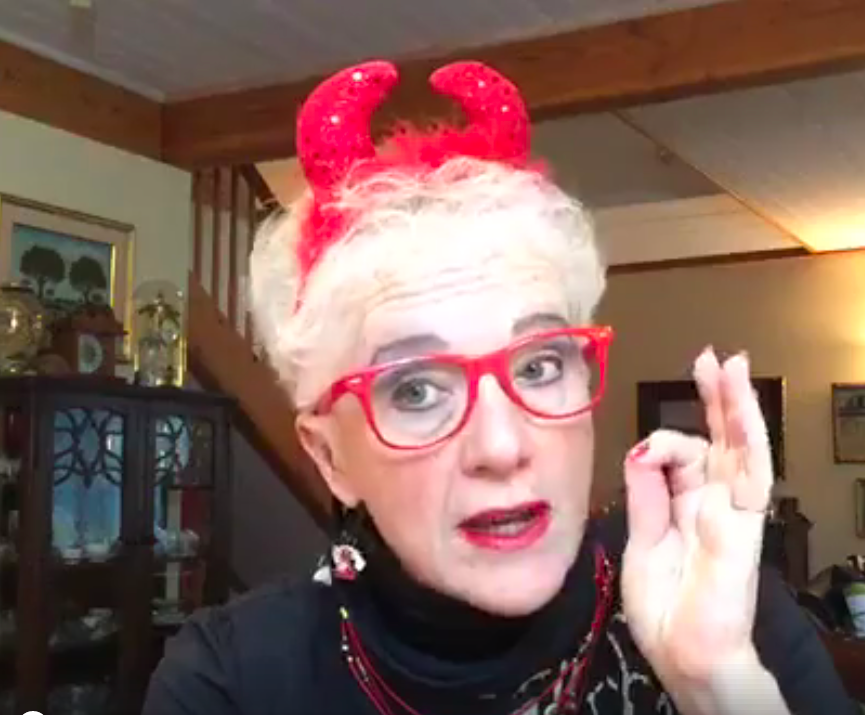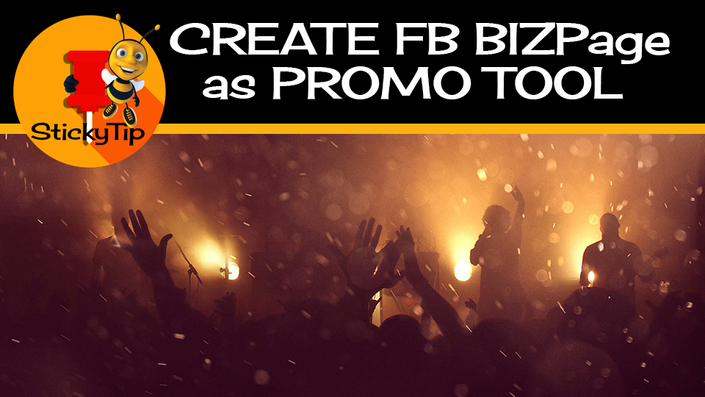 Your Facebook DESTINATION
Treat Your BizPage like a PromoTool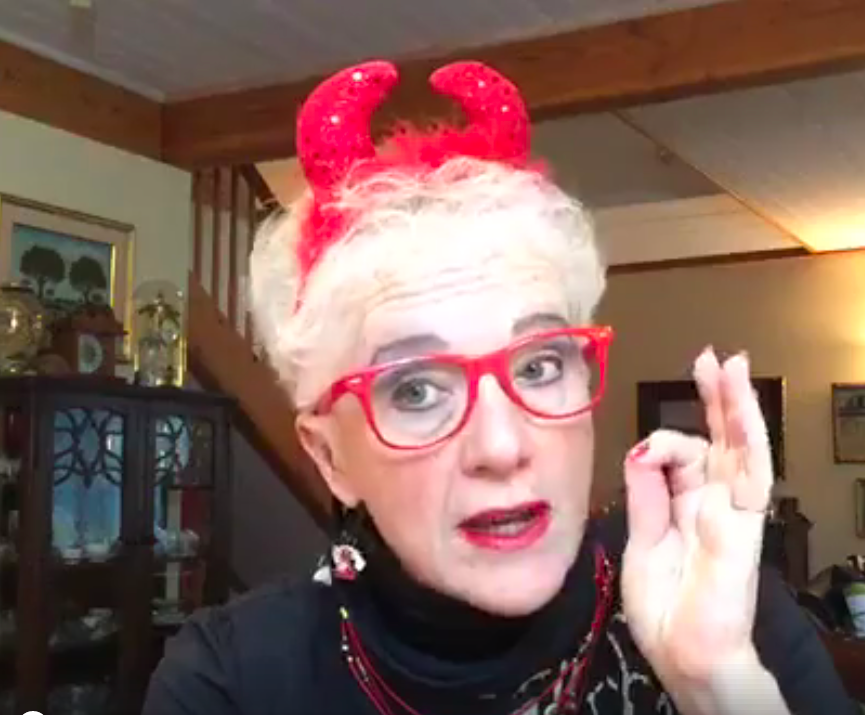 BW: Sell The Thing That Sells The Thing
What Makes You Different and How Do You Strutt Your Stuff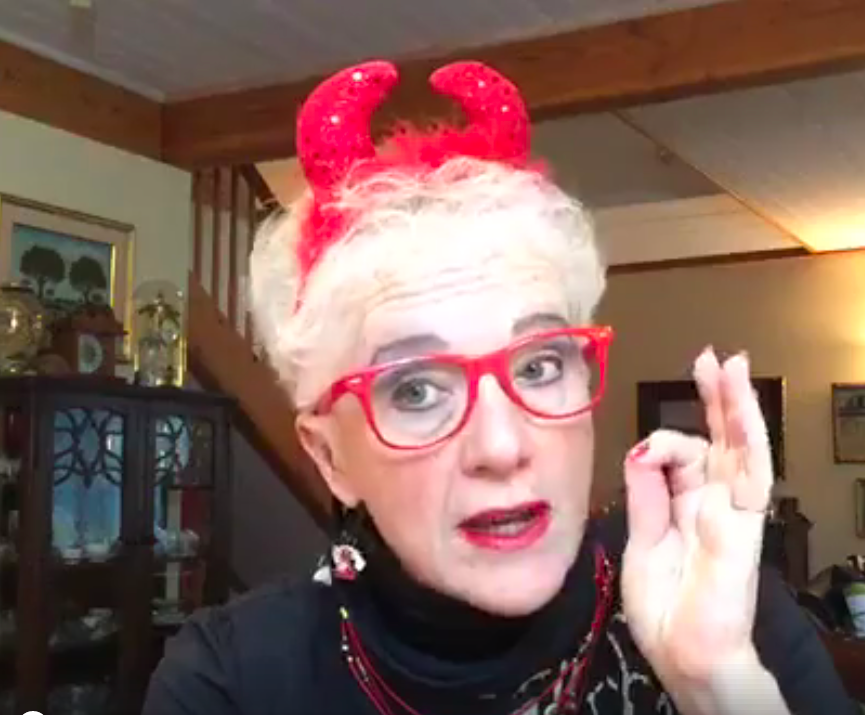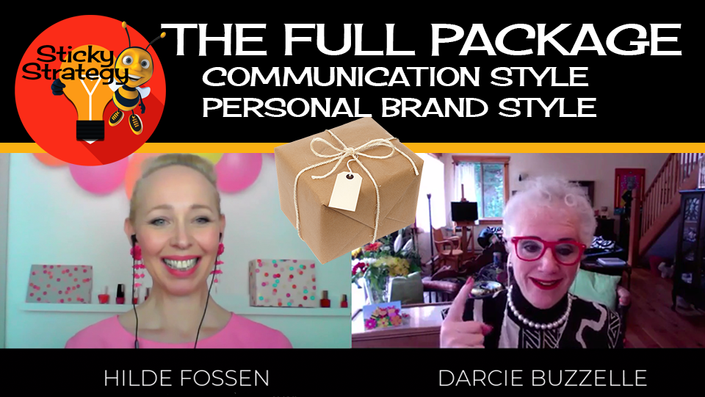 BW: It's the Whole Package
You NEVER Get a Second Chance to Make a FIRST IMPRESSION>>> Deliver The Full Package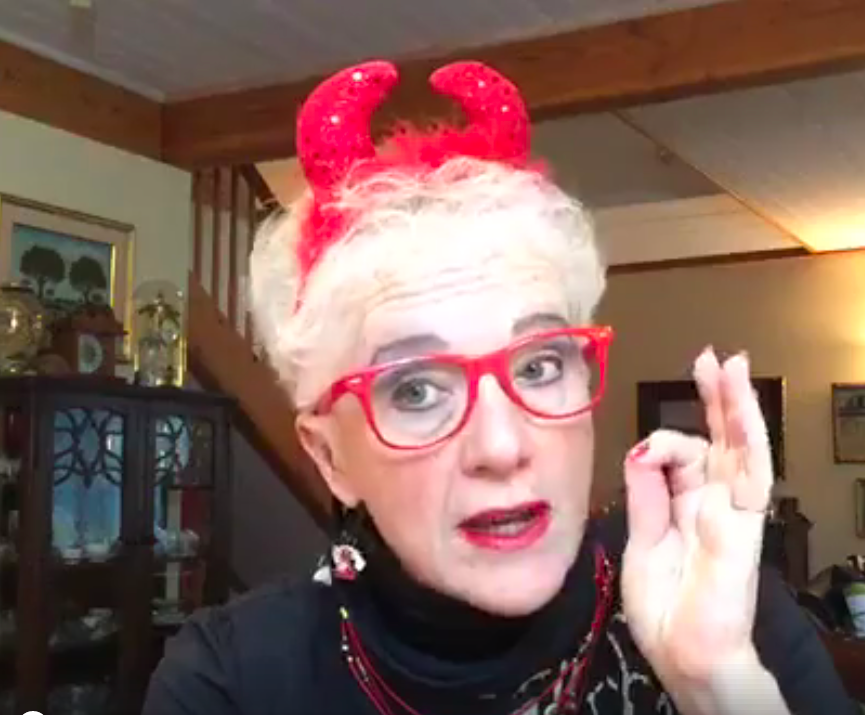 STOP Being INVISIBLE
Come Stand in Your Uniqueness!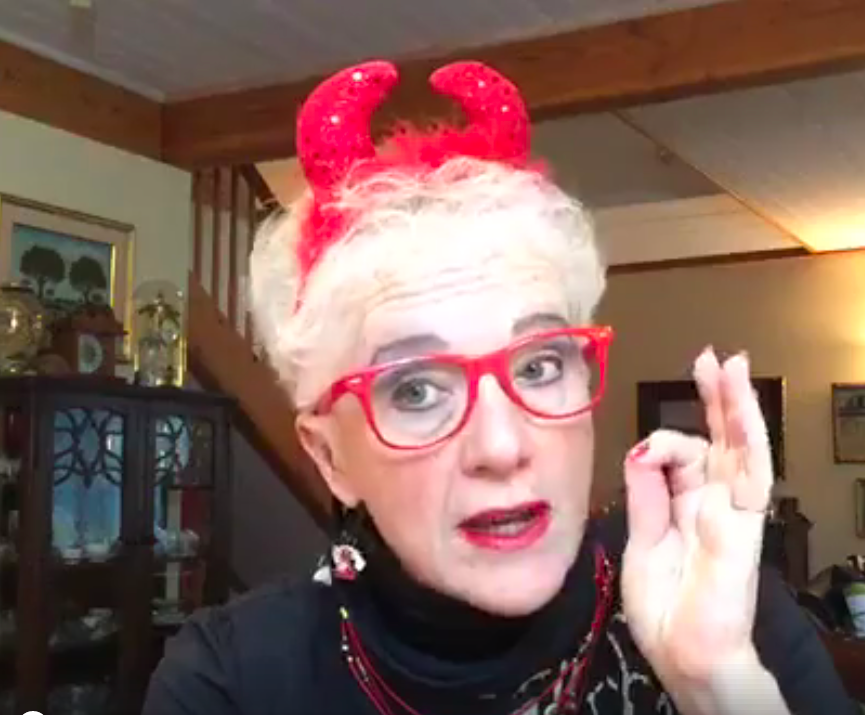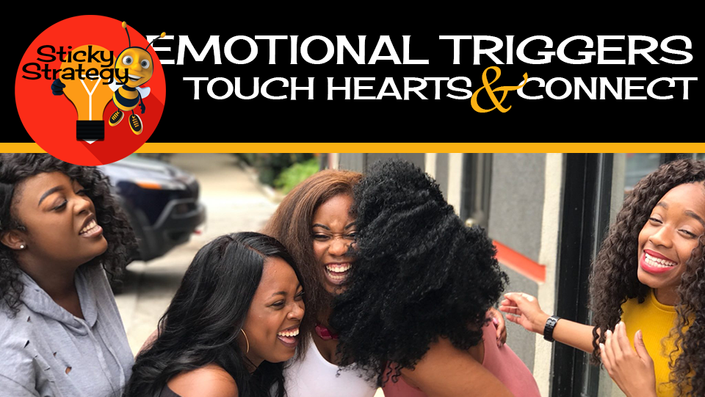 EMOTIONAL TRIGGERS Influence Sales
DISCOVER HOW to GRAB THEIR FUNNY BONE and MAKE 'em SLOBBER, GUFFAW and GIGGLE.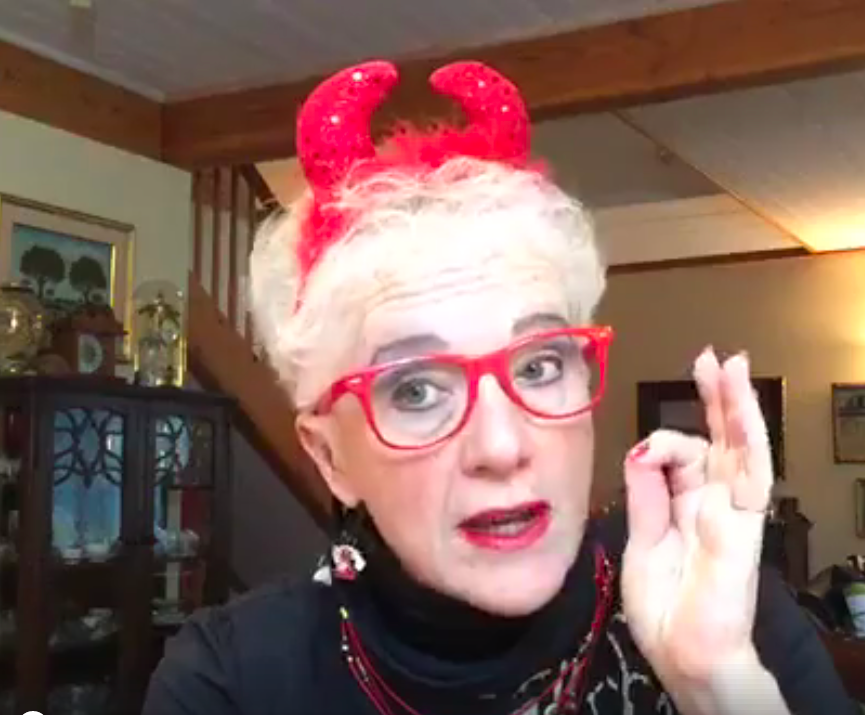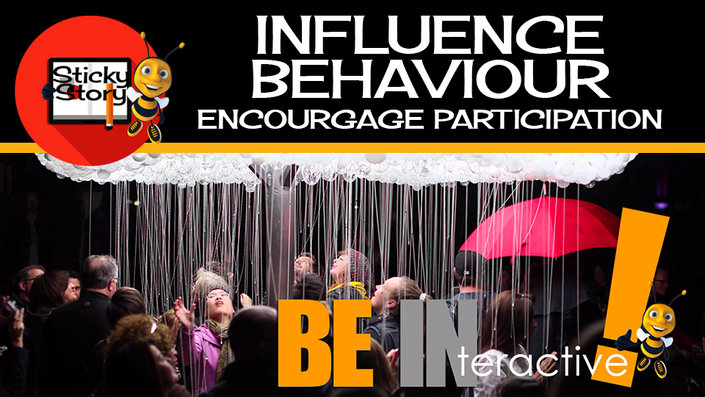 BE INteractive with Your Storytelling
When the Audience Can Participate in the THE STORY it becomes Captively Compelling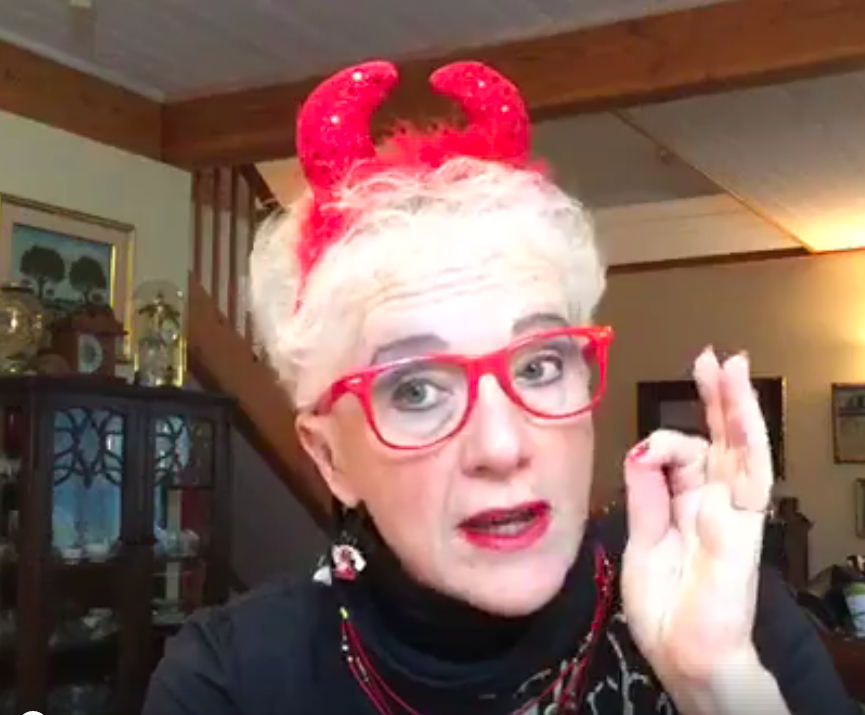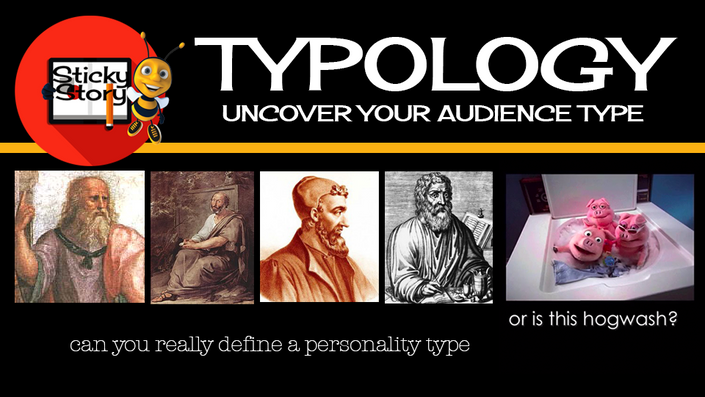 TYPOLOGY through The Ages to Understand Personality Types
Studying TYPOLOGY helps to Identify Personality Types... and Uncovers How to Define Your Audience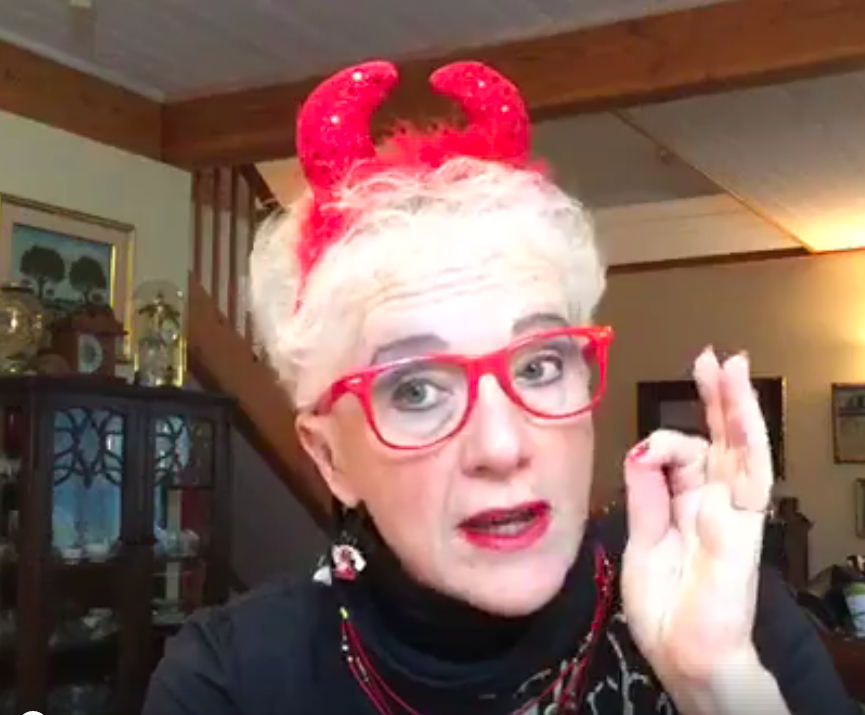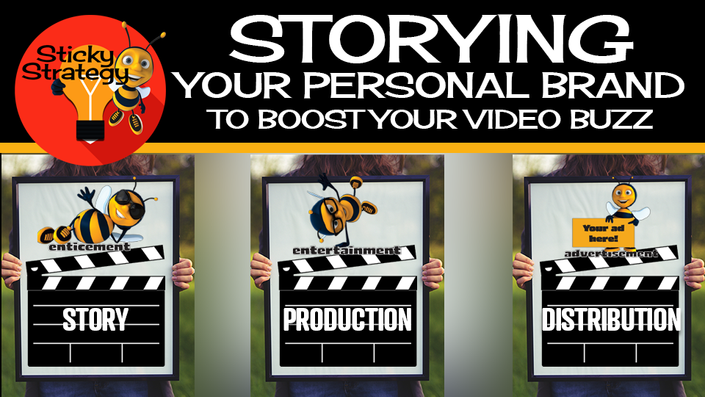 Storying Your Brand with Video Buzz
The Story, The Format and The Distribution for Square Videos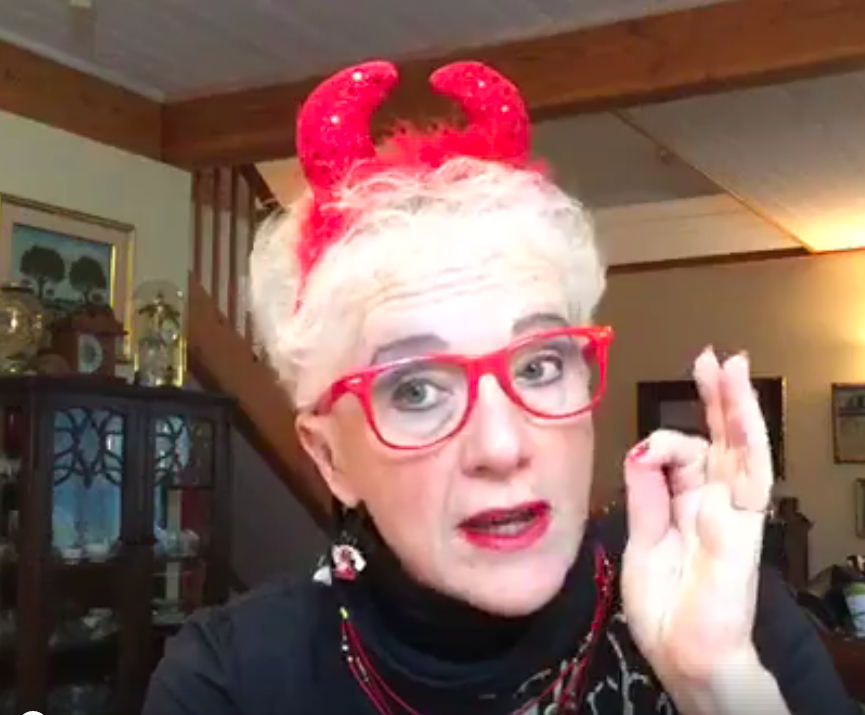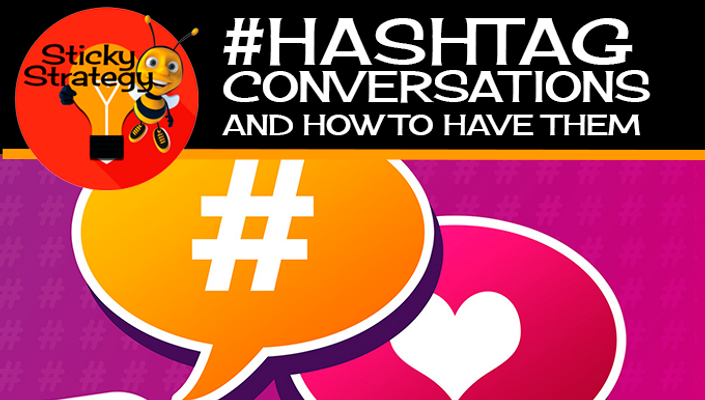 # HashTag Conversation
Connect, Communicate and Promote Your Business on Instagram and Facebook with #HashTags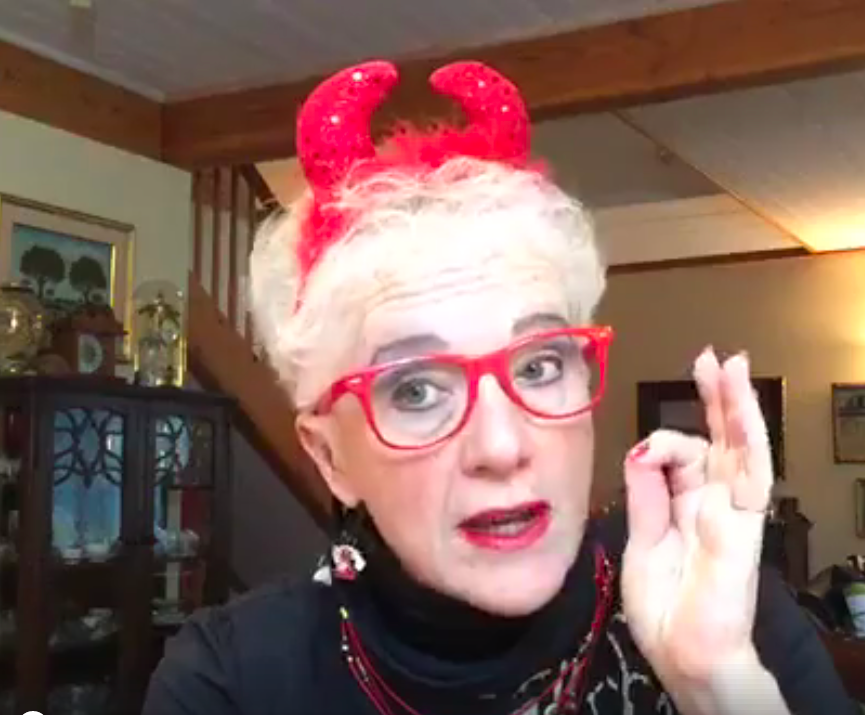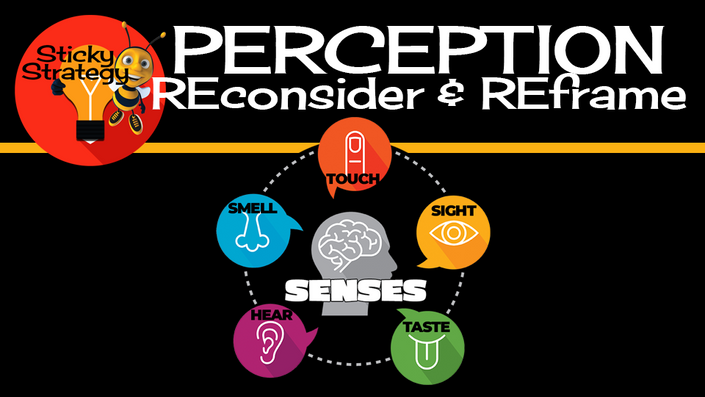 STOP the SELF-SABATOGE
Dump Your Pre-Conceived Notions don't let those old PERCEPTIONS dictate your future!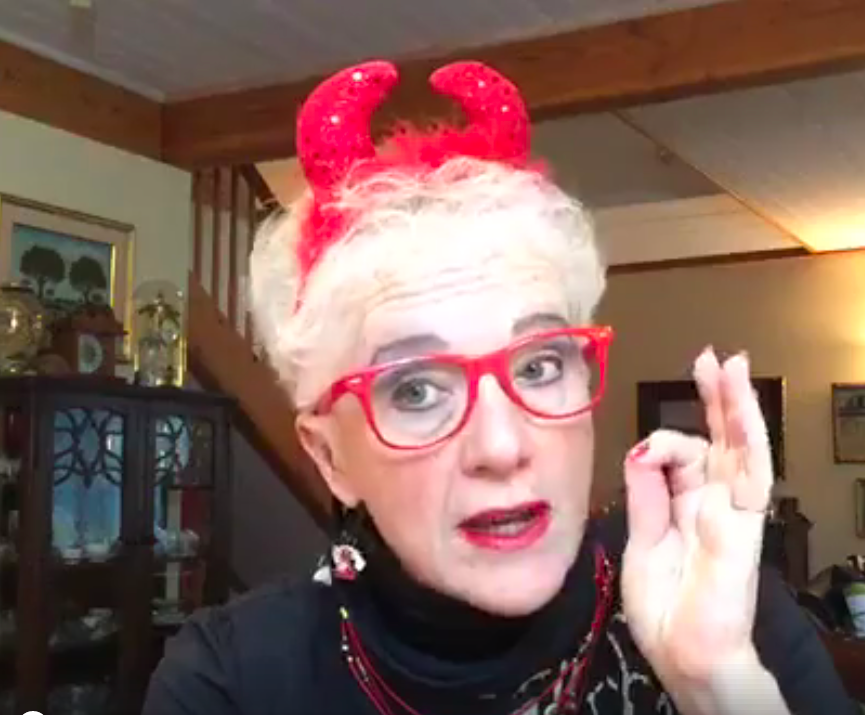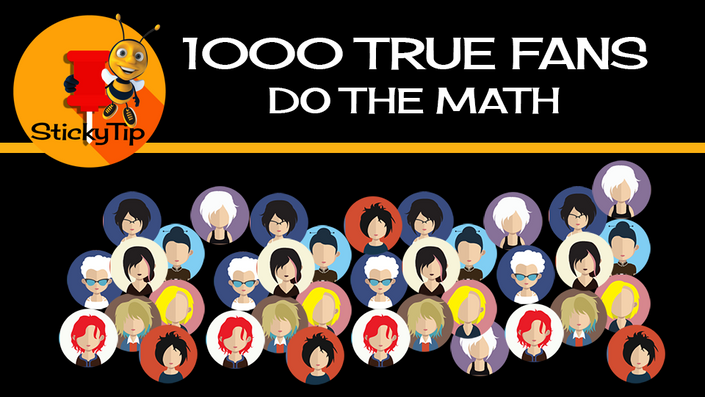 1000 True Fans COME DO THE MATH
Ya Gotta Do the Math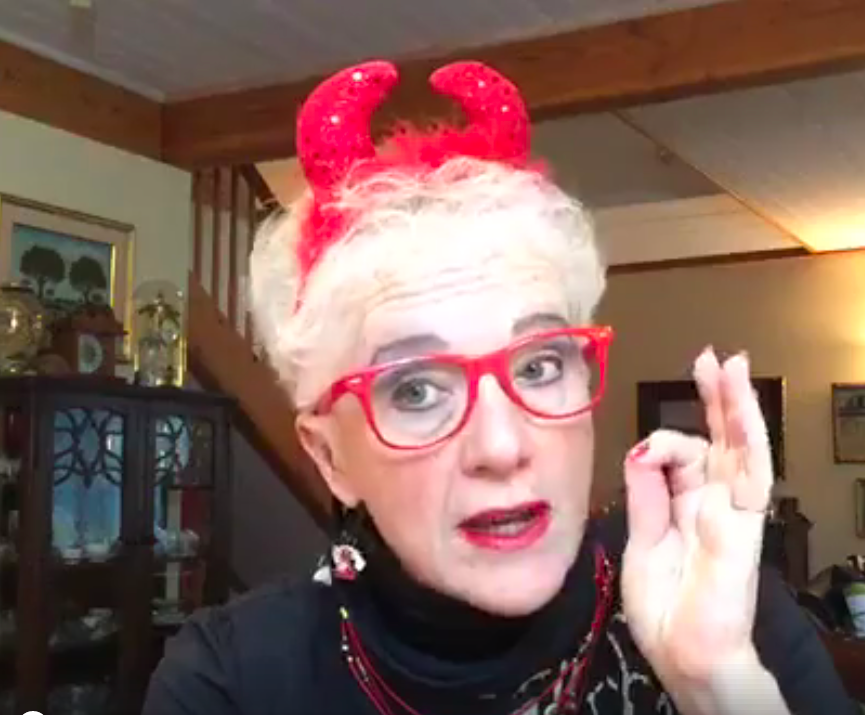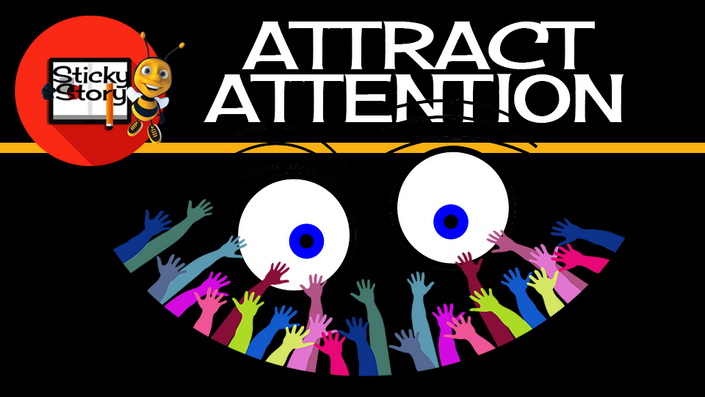 How Do You Grab Attention?
You Gotta DITCH the PITCH and Craft an EXPERIENCE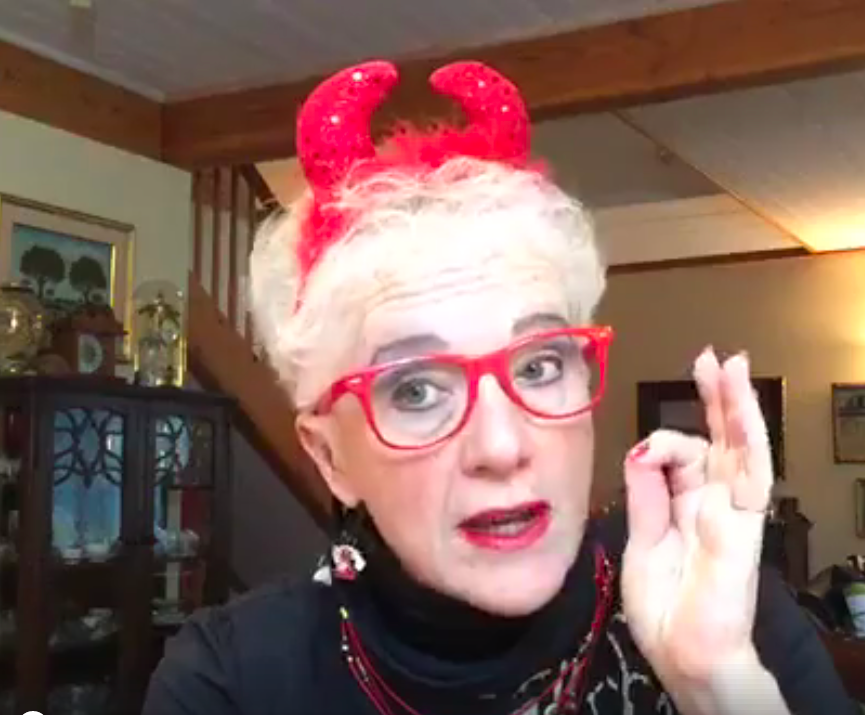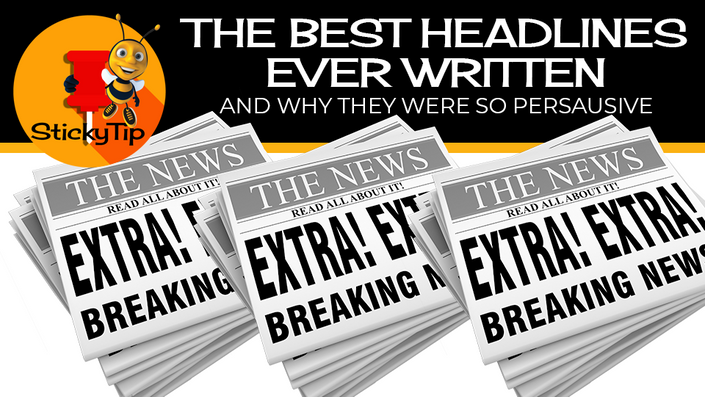 BEST HEADLINES EVER WRITTEN
WHEN YOUR HEADLINE WORKS... ya Got 'em Hooked... DISCOVER WHY they INFLUENCE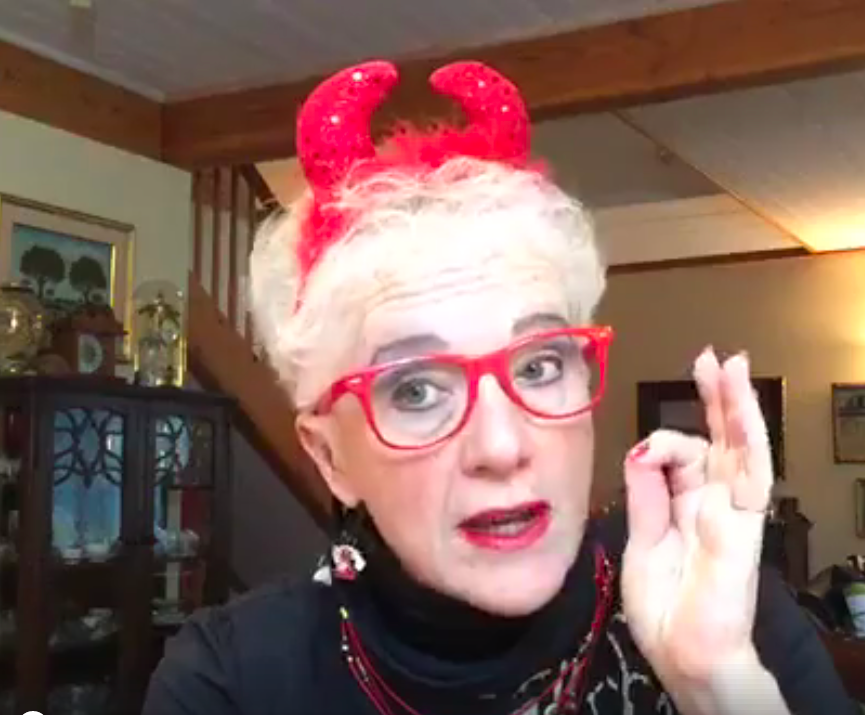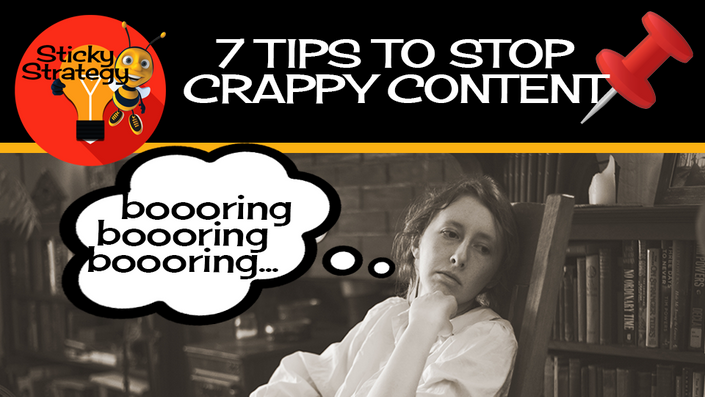 7TIPS to STOP Crafting Crappy Content
If you want your business to thrive, YOU MUST STOP BORING THEM and GRAB THEIR ATTENTION!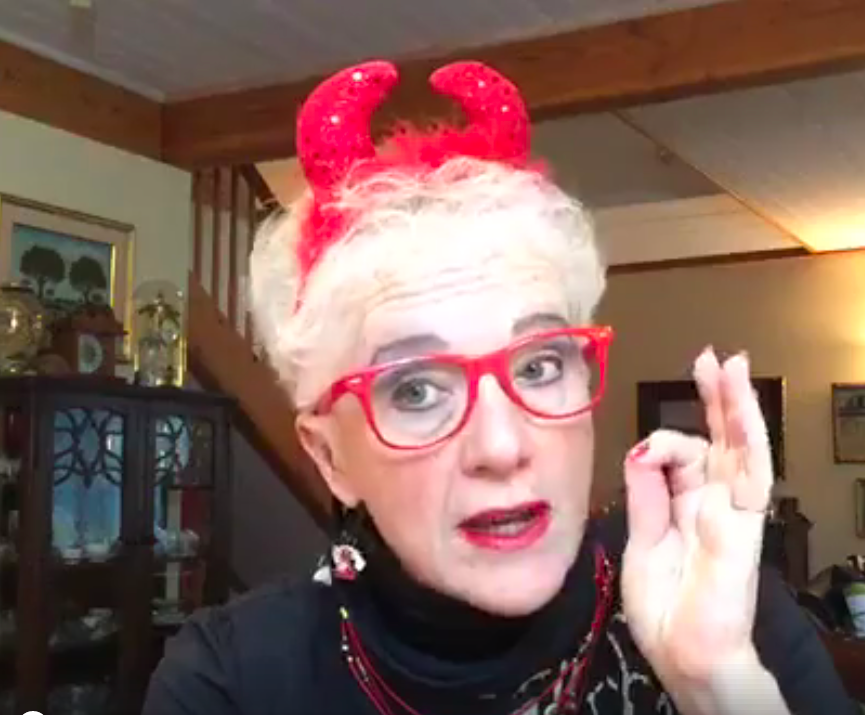 Understanding Facebook Insights
Get The Goods on Your Biz Analytics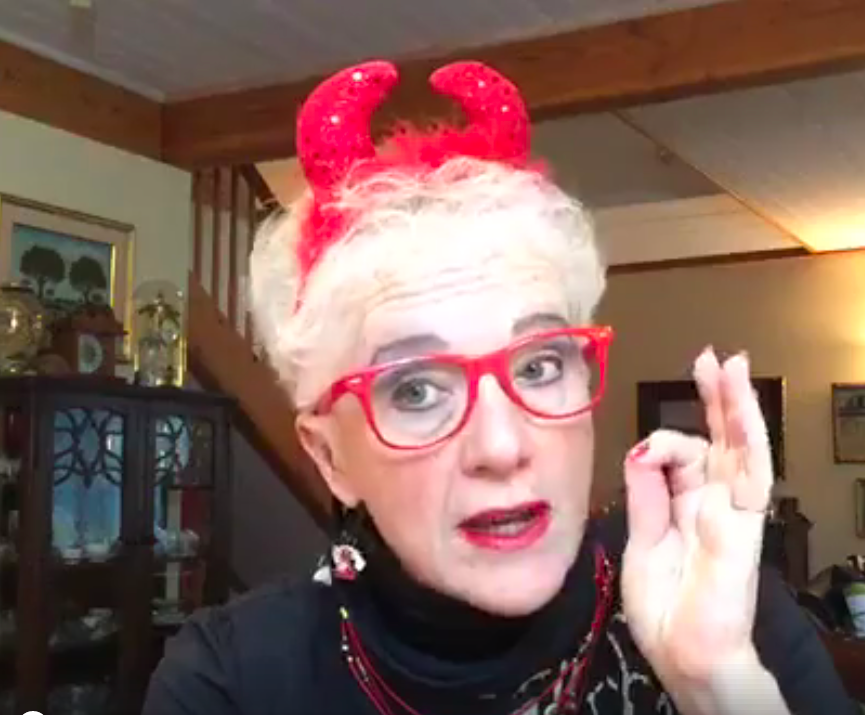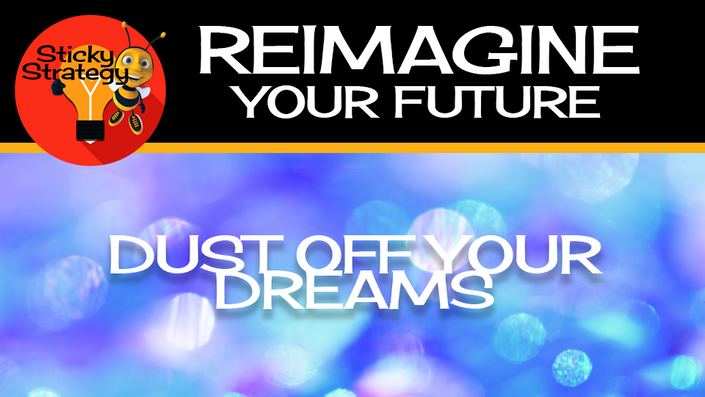 RE-IMAGINE YOUR FUTURE NOW
Get Your Business on Facebook Started with a SPECIAL $7 FIRST MONTH OFFER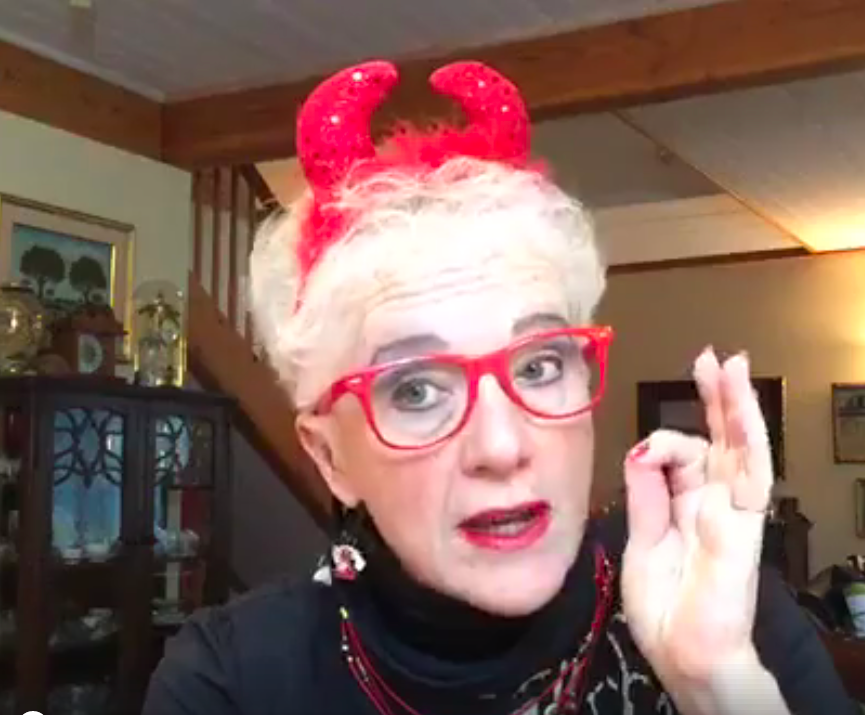 Frequently Asked Questions
When does the course start and finish?
Your membership starts the moment you enrol and does not end until you cancel your subscription! It contains completely self-paced online courses. You decide when you start and when you finish and you can revisit any course any time.
How long do I have access to the course?
Does lifetime access sound good? After enrolling and for as long as you continue the monthly subscription, you have unlimited access to this course—for as long as you like across any and all devices you own.
What if I am unhappy with the course?
This is a Monthly Membership Program with a monthly recurring subscription fee. TERMS OF MEMBERSHIP in THE BUZZword: This is a monthly membership site where you pay monthly for access. You can cancel any time from inside your user dashboard or by emailing us at
[email protected]
If you cancel the membership, you will not be able to join back at the old rate and there is no guarantee that you will be able to join again. Should you choose to terminate your monthly membership, please do so in writing at least 7 days prior to your next billing. If you are unsatisfied with your purchase, contact us in the first 24 hours of your initial sign-up and we will give you a full refund.